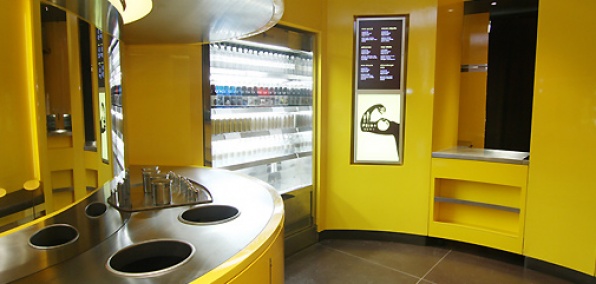 We've got nothing against sitting. In fact, we're doing it right now.
But when a late evening of merrymaking and cocktailing turns into a search for food, we prefer something savory, fast and chair-optional. Preferably with an unseemly quantity of melted cheese and noodles involved.
Introducing
MacBar
, a pint-size to-go shrine to the
cheesiest of late-night cravings
, opening tomorrow next to late-night juggernaut Delicatessen.
It's everything you're used to in a late-night refueling stop, but served up faster, creamier and...more lobster-y. Work your way past the al fresco crowd of runway models and social deviants at Delicatessen, under the glowing noodle above the door, and your reward is a plastic noodle-shaped bowl full of a crumbless, buttery rendition of everyone's favorite pasta. You can stop by the condiment bar for a few splashes of buttermilk ranch sauce, pepper flakes or a sprinkling of their genius bacon-and-breadcrumb mix, but make it quick—the space is small enough (only a single leather bench) that you'll want to take this dish on the road.
If you're craving something beyond the usual Gouda, they're serving up a frighteningly accurate mac-and-cheese version of a basil-topped pizza (the
Margarita Mac
), along with an Angus-equipped cheeseburger bowl for beefeaters. And if you're craving a Delicatessen lobster roll but don't want to park it next door, you can get the same fresh lobster (the two spots share a kitchen) baked into the
Mac Lobsta'
.
You have our permission to pronounce the "r."