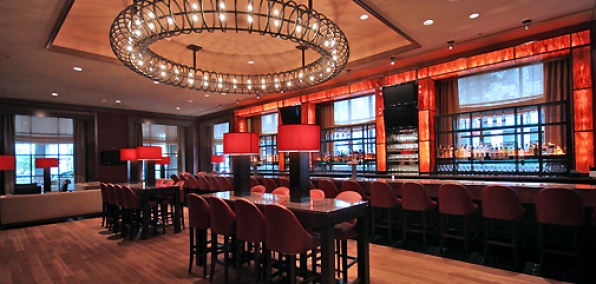 You've been hearing whispers of economic recovery. Don't jinx it. Just keep doing what you've been doing: keeping your head down, working hard and blowing off steam with the best post-work cocktails this city has to offer.

Your co-workers—hell, the whole economy—are depending on you.

Here to make sure you don't let them down: Bar Novo, opening Thursday as the Loop's newest spot to loosen your tie, slip into something soft, relaxing and Basil Tangerine Gimlet-y.

You enter through the Renaissance Chicago Hotel on Wacker, so the first thing you think is "hotel bar" (call it a hunch). But this former lobby cigar bar (ah, the '90s) is now designed to sequester you from check-ins, bellhops and any cargo-shorted Iowans asking where Oprah lives, via a clever innovation: doors.

Inside, there's a long bar, but opt for a well-cushioned sectional sofa where you can watch fedora-wearing chefs whip up Truffled Buffalo Wings, Smoked Prime Rib Nachos and mini Cuban sandwiches served with tiny Coronitas, perfect for a chugging contest with a Chihuahua.

When it comes to the cocktailing part of your cocktail hour, there's a Watermelon Caiparoska (the Russian answer to caipirinha), a spicy Cucumber Pepper Margarita and a Red Champagne Cocktail, a strawberry puree-and-sparkling wine potion that begins by misting the flute with an absinthe-filled spray bottle.

Which might just revolutionize the world of window washing.