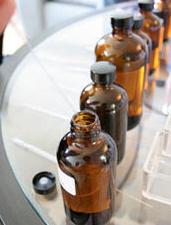 Showing up to a party in a shirt some other guy's wearing is embarrassing.
But it's nothing compared to the subtle yet scalding humiliation of showing up in some other guy's scent.
Here to help you find your very own, one true smell in life: Neil Morris, the Boston-based perfumer, who's unveiling an interesting new cologne experiment called
Four from the Vault
, rolling out to everyone else next week, and available to you right now.
The first step to singling out the scent you were born to spritz is to conduct a personal one-on-one meeting with Neil, either by phone or email. Here you'll tell Neil what kind of fragrances you like and dislike and what seems to best complement your rapier wit and Clooney-meets-Pitt handsomeness. From there Neil will hammer down what he feels best suits your every wafting need, he'll select four fragrances from his personal vault of more than 50 scents, and he'll send each of them to you in 2.5mil samples to take out for a test drive (note: this test drive has nothing to do with Derek Jeter's Driven).
You'll have a week to whittle your foursome down to that one cologne of destiny, at which point Neil will send you a 1oz bottle with a concentrated dosage three times the strength of typical mass-market-bought scents.
We're not even sure if it's street legal.