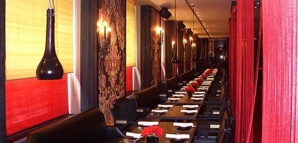 You thought the Chinese revolution ended in '06.
With
Buddakan
, Mr. Chow and
Chinatown Brasserie
all opening last year, this year has been surprisingly quiet on the eastern front.
Until now. Opening to the public on the 24th (and currently accepting reservations) after a run of high-profile private parties,
Wakiya
at the Gramercy Park Hotel will take its place as the more opulent, sexy counterpart to last year's pack. We bring you a first look inside.
Walk through the black velvet curtain in the hotel lobby and you will at once be immersed in a sleek den with shiny black tile covered columns, ornate wallpaper and floor-to-ceiling red tassels. A red carpet runs the length of the slender room, creating a feeling that you're a tacit participant in the season's best runway show (only with food). Take a seat on the left side of the room to keep your eye on the door, or grab one of the dimly lit back booths for a group table, which gives off the feel of a high-end Shanghainese crime syndicate's favorite spot.
Expect intensely flavored northern Chinese cuisine presented in grandiose fashion on black china and large platters. Indulge in the skin-only
Peking Duck
,
Bang Bang Chicken
served cold with spicy red paste or the
Fiery Pepper Hunt
, battered chicken infused with spicy peppers. Set everything off with a
Mint Champagne
(shochu martini topped with champagne) or an
Oolong Island Ice Tea.
Though we suspect you'll feel far from Manhasset at this point.