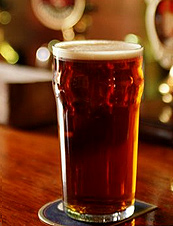 There's something intriguing about watching a rivalry unfold.
Federer v. Nadal. Jennifer and Angelina. Or Oakland versus San Francisco.
Yes, of course, we're talking about beer.
So you might want to grab a cold one, sit back and see how it all plays out…
Introducing
Linden Street Brewery Burning Oak Black Lager
, a new steam beer brewed in the virtually lost West Coast tradition brought to you by brewmaster/brewery owner Adam Lamoreaux (formerly of Anderson Valley Brewing), hitting taps for the first time today at the Trappist—and coming to the city this month.
Now known as common lager, this thirst-quencher is like a sip of California Gold Rush in a glass. In fact, the beer's roots can be traced back to the 1800s when German immigrant forty-niners brewed their own post-work refreshment. And, thanks to Adam, you've got an Anchor Steam alternative in this smoky dark lager that's way easier drinking than the so-brown-it's-black hue portends. And if you've got a Gorgonzola-topped burger around, we'd say that's the ideal pairing.
Supposing that you and Burning Oak become inseparable, you'll be glad to know that while the 1890 brick warehouse turned production brewery doesn't have an actual bar, Adam's always around to give tours. And he's more than happy to pour a few brews, including the flagship
Urban People's Common Lager
.
The modern-day equivalent of striking gold.