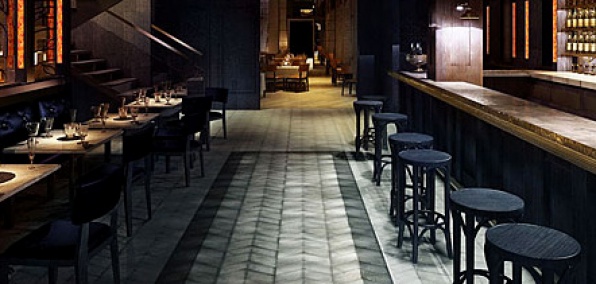 Maybe it's not right to be thinking about getting back into party mode the day after a three-day weekend.

But it's hard to ignore rumblings about a certain building on West 14th St.

If you're thinking the address sounds familiar it's because you used to find yourself in a Nicky Hilton/Lenny Kravitz sandwich on the dance floor here back when it was Lotus. But times have changed. Models and bottles just don't do it for you like they used to. You need models and a juicy burger made from a boutique meat blend.

The new tenants are focusing on the new form of partying that we're calling gastrolounging, which combines all the gluttony of eating a large meal with the option to lounge it off in the basement after dessert.

The result is Abe & Arthur's, now open for private parties just in time for Fashion Week (starting with Charlotte Ronson's party this Friday). And as of now, humans are manning the reservation lines for the October 1 opening night.

For the next couple of weeks, this spot should be in most conversations about going out, so you'll want to start peppering in references to the place at the water cooler and how you're just so tired of being there all the time. The massive shiny new Meatpacking player will occupy the top two floors of the tri-level space, serving old-school steaks, chops and other assorted comfort food goodness.

When you enter the sleek wood ground floor, you'll notice the glowing gold light is perfect for photo-ready clientele, like the cadre of six-foot-two Estonian models you could potentially be chaperoning after the Donna Karan show. If you want things a little more private, grab a perch on the wraparound mezzanine. And certainly, most of the evening's action will wind up downstairs at Simyone, the venue's exclusive basement lounge.

Like you ever need a reason to check out the basement.