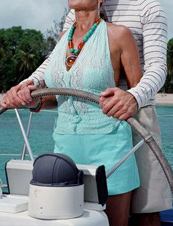 By now, we don't need to educate you on the discreet charms of the cougar. Between the latest Claudia Schiffer photo shoots and repeated viewings of
The Graduate
, we're quite certain you've got it pretty well figured out.
But if you're taking up cougar hunting as a full-time calling, you'll want to seek them out in their natural habitat. Which, it turns out, is a cruise ship…
Introducing the
World's First
International Cougar Cruise
, a three-day nautical getaway catering to ladies of experience and the younger gentlemen who enjoy them, taking reservations now.
You'll set sail from San Diego on a Friday afternoon and spend the next three days cruising in the company of countless would-be Mrs. Robinsons, with all the hot-tub-sharing and sunscreen-spreading that implies. Start your mission with a turn through the six-story Vegas-style atrium, where you'll be able to scope out the bar scene, and maybe even locate the woman-of-a-certain-age occupying the penthouse suite by the bow. Drop by the casino, where you can lock eyes with the nearest Sarandon-esque vixen as you take a spin at the roulette table. (In both cases, we like your chances.) And then head to the topside pool and demonstrate your youthful vigor with a couple of elegantly impetuous cannonballs.
But the real attraction is the guest of honor: one Gloria Navarro, the newly crowned, 42-year-old Ms. Cougar U.S.A. You'll have a little more than 36 hours to wine, dine and woo her before the ship docks in Ensenada and you're set loose on a paradise full of windsurfers and sport fishing outfits who can help you reel in a deep-sea bass or three.
That's not a euphemism.