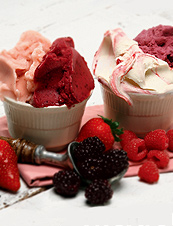 You versus autumn.
We're pretty sure how this fight is going to turn out. But quixotic or not, you deserve to have someone in your corner—preferably someone with gelato.
Meet
Paciugo
, which is like the Italian answer to Baskin-Robbins (with fewer sprinkles and more amaretto), extending summer into one long, creamy Tuscan daydream, now open in Lakeview.
It's the Chicago debut of a franchise started by a Dallas-based Italian couple, who looked around one day and said, "That guy in a cowboy hat would probably love an affogato right about now." So using the wife's degree from gelato school (the Italian higher education system is much more advanced than ours) they began crafting a selection for American palates.
You'll be beckoned inside by the counter staff, tempting you with samples from the day's 30 to 40 flavors (rotated in from 200 recipes), made fresh each morning. You'll go for something like
Salted Caramel
(with Mediterranean sea salt), but your date will take the tangy
Amarena Cherry Cheesecake
(with imported sour cherries). And if you're both feeling a little experimental, soon they'll be offering
Jalapeno-Chocolate
.
Because nothing spices up a date like...spice.