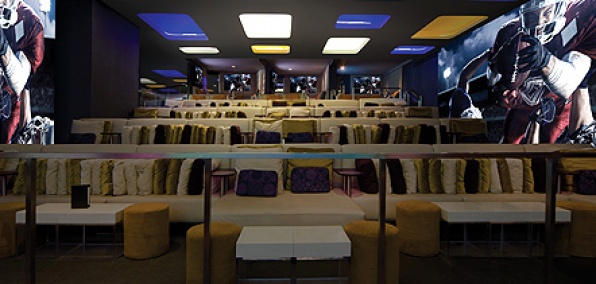 Whenever three of our favorite things come together, we stop what we're doing to appreciate that that this is part of our destiny—and our destiny is good.
Sometimes—as with the raw-bar karaoke pool party—the results can be unpredictable. But when you're mixing celebrity chefs, sports and gambling…let's just say we're feeling lucky.
Introducing the big-screened, casino-side sports den called
Lagasse's Stadium
, an Emeril-staffed, bookie-adjacent palace of sport, soft-open in the Palazzo now.
It's the
haute Vegas version of a Sunday tailgate
, which means
Creole Shrimp Cocktails
(yes, really) and
Italian Sausage Arancini
from Emeril, along with over a hundred plasma screens—including a nine-foot model up front. It also means they've added three things Emeril's rec room is sorely lacking: casino-style cocktail waitresses, a bar with more than just Bud Lime and easy access to the sportsbook. If you're overcome with the urge to place a wager—and we hear tails is looking pretty good for the coin toss—the Palazzo's own central bookie is just under the main screen, which means you can make the trip without endangering your seat or, more importantly, your shrimp cocktail.
If you're feeling particularly flush, you can even buy out a luxury box and survey the scene from behind it all like Mark Cuban. You'll get a screen of your own, a private sound system for game day music and—on the rare occasion that the game can't hold your attention—your own pool table and gratis Pac-Man arcade cabinet.
In honor of your favorite cornerback.