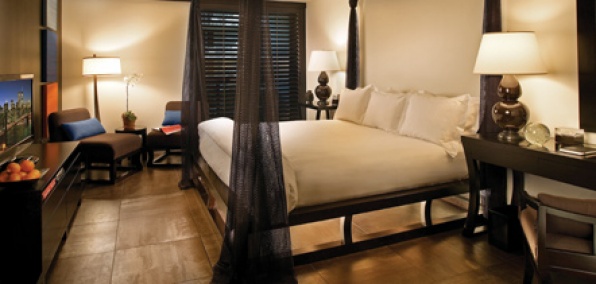 We know you have plans for this weekend.

In fact, you may already be knee-deep in them. And if you are, cheers to you.

But just in case you're holding out for something spectacular, something that will send summer out with all the fanfare and props it deserves, we think we've found it.

The Omphoy Ocean Resort is now open, and it's the sexiest hotel in Palm Beach, with rooms still available for this weekend at a ridiculous rate ($149 a night, last time we checked).

Now, we understand if you're skeptical. After all, this is Palm Beach, land of fancy poodles, lime-colored golf pants and the early-bird special. But this hotel feels a lot more like South Beach than Palm Beach—as you enter, you'll be greeted by a koi fish pond in the lobby, ebony wood pillars providing a bit of a Zen vibe and cozy oceanside tables under the shade of huge khaki umbrellas, the perfect place to grab a cocktail and plan your post–Labor Day attack…or not.

After a dip in the pool, you'll want to christen the upper lobby bar with a drink (it feels more like a VIP lounge, with a 100-inch flat-screen), then head down to Michelle Bernstein's restaurant for some Salt-Crusted Dorade and Tuna With Shaved Foie Gras.

Note: it will also be there next weekend.