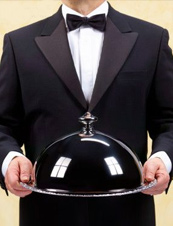 You're a busy person.
Between the international jet-setting out of Logan and power lunches in the Back Bay, we know it's a pain to have to make your own spa reservations in town
and
get VIP access to a club in Dubai.
Which is why we thought you should know about
The Key Boston
, a new personal concierge service started in June for select clients, now available to you.
Think of it as having your own personal Jeeves responding to your every need, which, given your lifestyle, could come at any hour.
Say you're headed on one of your typical weekend sojourns to the coast of Spain. The Key can reserve dinner for two right on the water at Enoteca in Barcelona (try the paella; it's fantastic). Chartering private jets to scoot you across to Nantucket for a party, cleaning crews for polishing up your place at all hours, box seats at a Celtics playoff game—it's all now just a phone call away (assuming the Celtics make the playoffs).
You can customize the services however you'd like them, from à la carte to a monthly all-inclusive membership. There's even a "locating hard-to-find items" option that we find especially appealing.
You never know when you'll need a 19th–century samurai sword.