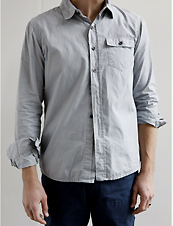 It's always nice when things surpass your expectations.
Like when you order a pint and you get a pitcher. Or the brunette in the seat next to you on the plane turns out to have an identical twin.
Or when your shirt that looks at home at RN74 can also endure the trials and tribulations of say, the Tour de France...
Introducing
Martin
, Nice Collective's debut collection of scrupulously tailored clothes that, upon close-up inspection, have details that'll take these threads to a whole new performance-enhanced level (still talking about biking) without any sign of bright neon spandex—available now at Villains Vault.
This collection is the dream child of the SF-based Nice Collective duo who teamed up with fixed-gear cyclist and man-about-town Michael Martin of Mash SF to bring you clothes…with super powers. Take the
Pinstripe Button-Up Shirt
: to the untrained eye, it looks like an ordinary, albeit sharp, button-down. Except that, now, when you roll up your sleeves at the office to get down to business, you can secure the cuffs using the secret elastic pull cords. And if you find yourself under deadline, the antimicrobial fabric will keep you looking (and smelling) under control.
Reflective stitching in items like the leather
Map Belt
comes in equally handy for riding the dark streets as it does for making sure your date doesn't lose you in a club. As for the
Zip Hood Sweater
's hidden magnet closures…
Well, never underestimate the value of easy access.