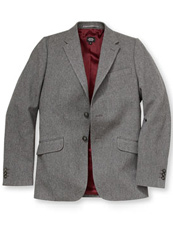 Starting small is never a bad thing. As long as it's just a start. 
And yes, turns out Jack Spade was just getting started with its courier bags and urban knickknacks—the brand's new full-on clothing line debuts exclusively at the
Jack Spade at Apartment Number 9
pop-up shop launching Thursday.
Complete with a long-overdue Phyllis Diller collaboration.
More on that later—but first, the clothes. Spade wants to give you modern updates on classic, all-American looks you need to get through a whirlwind day in the city. To wit: well-cut suits sold in pieces or as a whole. Cashmere cardigans. Button-downs of Egyptian cotton. All of which conspire to show you off as a no-fuss rake who cares about such things without actually, you know,
caring
about such things.
And while you're at the apartment, you might also want a cork-handled bike, a chocolate bar named after the La Brea Tar Pits, random goods they found with a metal detector…and some paintings by their obvious muse for all this, Phyllis Diller. Really—she paints. They love her works. So they'll be on the walls.
Just barely edging out Carrot Top's postmodern watercolors.