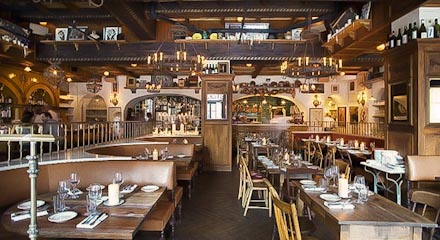 As anyone as shrewdly efficient as you knows, you don't have to actually go to the country to do rustic.
Which is why we were pleased to see some Italian countryside brought city-side with
Gemma
, the hotly anticipated new restaurant in the Bowery Hotel that opened quietly over the weekend.
In previews this week (and thus primed for walk-ins), Gemma is the countrified creation of some of the city's brightest culinary stars (it's run by the folks from the Maritime and
Ye Waverly Inn
, cheffed by the chef of La Bottega and designed by Taavo Somer of Freemans). If you and your party are in a lively mood, grab one of the big tables in the open front room, which is filled with retro Tuscan farmhouse touches, from the wood-burning oven and exposed wood beams to the wax-caked candelabras and copper pots hanging on the walls. If you're feeling less boisterous, head for the back dining room, which offers both privacy and walls lined from floor to ceiling with bottles of wine (not that you needed the encouragement).
And just like supper on the farm (we're guessing), the menu—a la carte carni and formaggio, wood oven pizza—is built for sharing. Mix and match meats and cheese of your liking for the table (you'll love the creamy
Burrata Caprese
and the
Carpaccio di Manzo
with white truffle puree), but make sure to keep a little something for yourself, like the veal chop, grilled and bursting with flavor.
You can take the restaurant out of the country...