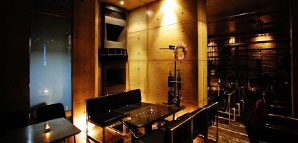 Even in a city with a virtually limitless array of dining options, some dishes are way too good to miss—they demand immediate consumption. Every month, our feature Served Up gives you the lowdown on a standout dish in the city. Dig in.

Your desire to put food to flame around the 4th of July often goes unfulfilled in a city devoid of backyards for grilling.

You can, however, enjoy a sushi roll aflame with the Volcano Roll at Mad For Chicken.

Known primarily for their Korean fried chicken (you should go straight for the soy garlic drumsticks), it's easy to overlook the Volcano Roll at this Koreatown hideaway, especially since there is no English description of the dish on the menu. Not to worry, you have a translator.

It all starts relatively simply: It's a large, plump roll of crab and avocado, rolled, sliced, stacked and topped with a mound of crabmeat. From there, things get a little interesting. Served on a large plate decorated with spicy mayo and tobiko, the Volcano Roll is brought to your table surrounded by a ring of fire, with flames leaping more than a foot into the air. For those unaware of what's to come (everyone other than you and your server), it makes for an impressive spectacle... and lets you hide your pyromania behind a socially acceptable facade. The flames soon die down, leaving you with a tasty, unsinged roll of fresh sushi (we could swear that mayo has a post-flame kick to it, though).

Add that to the hidden New York feel of the place—find the souvenir store on the corner, enter the apartment building next door, go up the shady set of stairs in the back to the second floor and enter the totally surprising, sleek, industrial-modern lounge—and you're set up for a great under-the-radar date.

And if she can't take the heat...