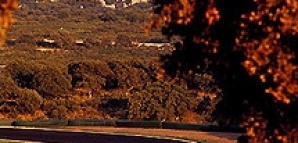 It's summer, and that means it's driving season. But fighting vacation traffic on the interstate isn't exactly the joyride you're looking for.

There is, however, a Formula One racecar waiting for you in Spain.

The newly opened Ascari Race Resort, nestled in the hills outside of Seville, is the first luxury resort to put amateur drivers behind the wheel on a professional racetrack. This speeder's paradise is the real deal—you'll be taking on the longest racetrack in Spain in the fastest cars on the road. The circuit has 3.4 miles of sharp curves that emulate the corners of famous racetracks, woven through the foothills of the Sierra Nevada mountains.

If you're a little rusty pulling 3G on hairpin turns, the Race Academy will train you as you ride shotgun in your choice of car with a competitive racer. Or if you'd rather go off-road, take on a fiberglass "speed buggy"—with no doors, no windows and a max speed of nearly 100mph.

While your car's in the pit, head to Cortijo, Ascari's Mediterranean-style clubhouse, where you can dine on Andalucian cuisine or have a drink at the outdoor terrace bar. The Ascari's onsite hotel is opening soon, but in the meantime they'll put you up nearby in your choice of five-star hotel, classic Spanish villa or even a private yacht. And if you've had enough driving, get to the airport in style from Ascari's own helipad.

Because highways will never be fast enough again.