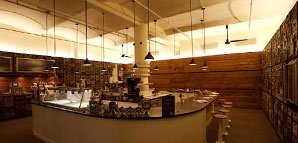 As far as stand-by beverages go, milk does not rank high on your list.
In a brilliantly retro move, though, Mark Sarosi wants to make your liquid diet a little more wholesome...with the
Ronnybrook Milk Bar
, opening mid next week.
Having worked at
Ronnybrook Farm
since he was a kid, Mark finally convinced Ronnybrook to let him turn their Chelsea Market storefront into New York's very first milk bar—which, on the heels of the dessert bar, is another alternative bar your woman will love. The spot feels part country kitchen, part old school malt shop, and it has walls of antique milk crates that pull out for seating and tables. At the circular bar, order up milkshakes from Ronnybrook's experimental ice cream line, with flavors she'll love like
Lavender
or
Cardamom
.
If you want to look a little tougher (although, let's face it, you're at a milk bar), order up a milk cocktail—they use any combination of flavored milks (coffee, cinnamon, chocolate) along with coffee or seltzer, shake it up in a martini shaker and serve it straight or on the rocks (really, the buzz is ridiculous). If you feel compelled to sneak in a little Stoli, Mark probably won't be mad at you.
The milk bar will also serve up some classic breakfast and brunch items, like eggs, sandwiches and salads. Along with the ice creams and milkshakes, cookies will always be on hand for dunking...which means this is possibly the perfect spot to take your girl on a hot summer afternoon.
Sometimes you're so good and wholesome it hurts.