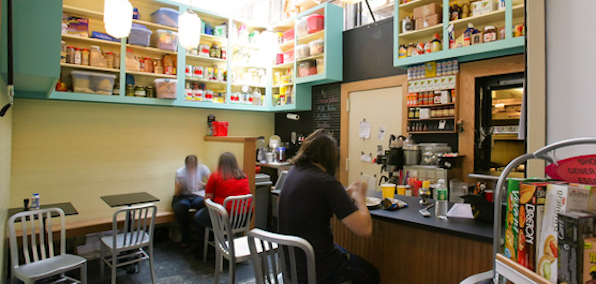 Sure, you appreciate good service. But sometimes you just want to be pushed around a little.
If you're hungry for a little old school New York browbeating with your chevre-lime French toast, head to
Shopsins General Store
, reopening tomorrow in the Essex Street Market after a beloved 30-year run in the Village.
Kenny Shopsin, founder, master chef and resident tyrant, runs a tight ship—no cell phones, no parties over four and everyone has to order a full meal. Violators will be kicked out, chased out and/or assaulted. And don't try to pretend your party of five is really just two and three—Kenny has a large spatula, and apparently he's willing to use it.
But play by the rules and Kenny and his army of children will cook up one mean brunch. Out of a closet-sized kitchen comes an eclectic menu of over 200 unforgettable items—like the egg dish
Blisters On My Sisters
(you'll see cheese bubbles in a whole new way), a few dozen soups (pea-leek butter dumpling?) and the pumpkin-peanut-butter
Slutty Cakes
(really, they're just misunderstood).
Shopsins' new Essex Street digs are about half the size of its former spot, but just as kitschy, with its jars of Marshmallow Fluff and wooden sign that reassures diners that "All Our Cooks Wear Condoms" (as we mentioned, he runs a tight ship). While they're serving "only" a few hundred items at first, the Shopsins promise that, as soon as their cult following comes running back, the menu will one day attain its former
11-page glory
.
We give them 'til the end of the week.