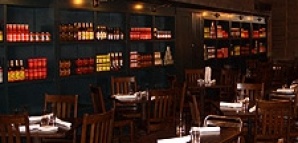 You've done the
new
New York thing quite a bit lately.
So it might be time to take a step back and visit a place that knows its history. Somewhere like Borough Food and Drink.
Opening next Tuesday to the neighborhood (at the old Rocco's space) and now taking reservations, Borough Food and Drink is the latest venture from Jeffrey Chodorow and Zak Pelaccio. The concept: Take longstanding (and in some cases, long-forgotten) food and recipes from all five boroughs and bring them together under one roof. There's cevapi from Astoria (to satisfy your Balkan food craving), roast duck with Hong Kong-style noodles from Chinatown (when you're feeling the Far East) and Manhattan Clam Pizza (to please your Little Italian side). And if you've been mourning the demise of the Second Avenue Deli, you'll want to try the matzoh ball soup and a classic New York cheesecake.
All of the Olde New York fare goes down in a room tailor-made for you—brash, boisterous and built for spying others. While you can't go wrong at the bar (where you can keep an eye on the open kitchen) or in the main seating area, you'll eventually want to head for the curtained-off back lounge, where you'll find vintage city art, walls paneled with reclaimed wood and, most importantly, a pool table.
It's the perfect place to take somebody to (old) school.