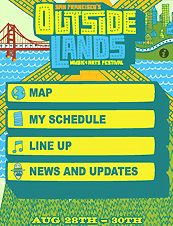 It's notoriously difficult to predict what the weather gods will have in store for us at any given moment.
Which is why as you try to appreciate the irony of bundling up to go to a summer music festival in August, you're also looking for ways to take matters into your own hands.
And since you can't control the weather, do the next best thing and download the official
Outside Lands iPhone App
.
Here to help you navigate the three-day music fest named after the 19th-century term for what was then the area west of Van Ness, this free download is like having your own personal assistant for the weekend—telling you where you're going, when and how to get there.
Get started by lining up the bands you want to check out—like the obvious Pearl Jam and M.I.A. to The National and Raphael Saadiq. And if, say, Bat for Lashes is playing at the Panhandle Solar stage and TV on the Radio is all the way at Twin Peaks, you can strategize to see how best to maneuver the park without missing a beat—or have a listen-off on your phone and choose the better band (though the odds weigh heavily toward the sultry twentysomething Brit singer).
Then, while at the park, your handy mobile schedule will update you on unexpected delays or schedule changes, so you can make adjustments on the fly.
Like head to the beer tent.