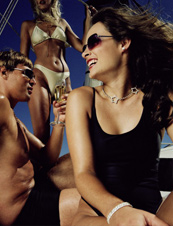 Outside your window, it's a stunningly gorgeous day.
So we wouldn't be surprised if your mind is beginning to wander...to the thought of a cold beer and the kind of pure unfettered relaxation that only the sea can provide.
Which is why we imagine you could use
Come Sail Away Now
, a new yacht at your disposal with a flexible schedule and an even more flexible stance on alcohol (no word yet if the proprietor is a former member of Styx or not).
Sure, there are a few of these, but up until now boozing on a boat mostly meant the insufferable lameness of dealing with tourist cruises filled with watery cocktails unbefitting a
Master and Commander
–type such as yourself.
The first thing you'll want to do is round up 11 of your friends and reserve the esteemed
Tupelo Honey
, a 31-foot hand-built replica of a 1904 Dictator sailboat by local yacht master Jarvis Newman, docked at Pier 6 in Charlestown (conveniently located next to Tavern on the Water) and steered by a salt-tested captain who's more worried about which way the wind's blowing than what you've got in your ice chest.
In other words, it's completely BYOB—and all yours for up to two hours—so we picture you turning this streamlined vessel into your own little happy hour on the high seas.
Or the mid-to-low seas.