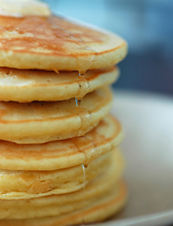 After a wild night of hedonism, bourbon and
impressive feats of aerial endurance...
You might think it would be unwise to return immediately to the scene of the crime.
But you'd be wrong, now that there's a late-night diner soft-open at Hollywood's Playhouse nightclub. Welcome to
Sweet Love Hangover
, here to bring you back to fighting shape.
With a glass façade right on Hollywood Boulevard and plenty of mirrors inside, the room offers views of that only-in-Hollywood two-step between shutterbug tourists and sultry night owls any direction you look. (Even if it's behind dark glasses.)
So drop in by those windows and order up some
Fried Bologna and Eggs
or
The Hangover
—which involves crispy chicken tenders, gravy, eggs over-easy and some Tabasco. (You can order breakfast all day.) Later on, they've also got bacon-wrapped hot dogs,
Sloppy Sliders
and
Straight Up Meat and Potatoes
.
And if only the old hair-of-the-dog cure will do, not to worry—a full bar at the back gleams with the promise of relief. Stay there long enough, and you can just go back to the dance floor.
They're still working on pulling the place together—new tables and chairs are coming—but they just couldn't wait any longer to quietly start getting you your much-needed grease.
Your kind of people.