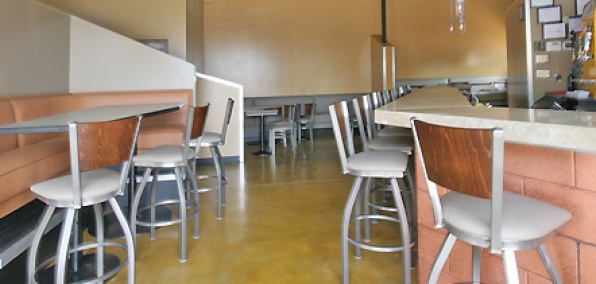 As you know, some of the world's greatest inventions have been spawned in a garage.

Apple Computers. The Porsche 911. The remote-controlled garage door opener.

Get ready—life as you know it is about to be forever altered once again: the deep-fried hot dog has arrived, and it was hatched in (what else?) a garage.

Welcome to Clutch, offering the best afterlife an abandoned West Town auto repair shop could hope for—and some of the craziest fried food outside of a traveling carnival.

Don't get us wrong—for the most part, Clutch is low on frill. Sure, there's a huge outdoor patio for your entourage, but the tiny interior's just the place when you're flying solo. Grab a seat at the cinder block bar, spray painted gold and topped with a thick slab of concrete, where you'll find a handful of beers (from Wisconsin's Point to Bell's Oberon), the wine basics (five red, five white) and a strict no-mojito policy.

But the menu's where Clutch really slams it into overdrive. There's The Ripper—the aforementioned deep-fried dog, slathered with tangy mustard-onion relish—and the Clutcheasy, a third-pound burger that's completely enveloped with a half-pound of crusty cheese. (Yes, you read that correctly.) Finish it all off with a basket of fries, which you can have drenched in Clutch's spicy caliente wing sauce.

Beat that, Jiffy Lube.