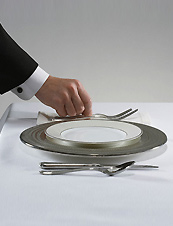 The problem with restaurants is that they're full of people.
Waiters shuffling about, busboys clamoring stacks of plates, the table of four sitting next to you loudly debating the merits of
Gossip Girl
.
Let's take it all away. All the tables except for yours. All the waiters except for an expertly trained captain. All the cooks except for the chef. And let's hand you the keys…
Introducing
Private French
, a new underground, one-table "restaurant" at Openhouse Gallery in Nolita, helmed by the culinary force behind the recently shuttered Payard—accepting "applications" now.
If you've ever wondered what it would be like to own a French restaurant, shut it down for a night, and have your best staff wait on you hand and foot, it's time to indulge that fantasy. It starts with an innocent email you'll send in explaining the occasion: your next big date, your next French aristocratic-themed birthday dinner party for 16.
From there, you'll hopefully get a call (be prepared for some short notice) telling you you're in. You'll work with the chef to create a menu of exquisite French fare up to your exacting standards, decide if you want wine pairings or BYO, and then just show up.
And when you do, you'll walk into a giant white room, decked to the nines with nothing but a single table, one flickering candelabra and the soft sounds of your chosen tunes (hint: we think this occasion calls for the sweet sound of "Lost in Love" by Air Supply).
Foie gras and burgundy will flow course after course, the captain will stand behind you at attention, and your date will be rendered powerless at the awesome might of the evening.
Or maybe just the Air Supply.