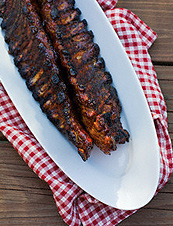 In case your morning stroll wasn't warning enough, we'll just come out and say it: it's f*#king hot out there. The sun's out, the living's easy and the desire for an outdoor, booze-fueled pork-piling cookout is almost overpowering.
Preferably something you can fit in on your lunch hour…
Introducing
Picnick, Smoked
, a new mini-trailer-based lunchtime barbecue spot complete with red-checkered-clothed picnic tables, milk shakes and staggering quantities of smoked pork, kicking off today on Wall Street.
It's what Shake Shack might be if it went mobile, carted over to FiDi and developed a serious barbecue jones. That means Kobe brisket, half chickens and pulled heritage pork culled from the tender front-shoulder cuts and dry-smoked Texas-style for 15 hours. And since the man behind the meat is former molecular dessert wunderkind Will Goldfarb, there'll also be a frangipane apple tart, a milk shake du jour and a few liquid nitrogen-fortified molecular milk shakes in the pipeline, depending on when he decides to let them out of the lab.
As for the precise location of your picnic, you'll be BBQing on a strip of land at the southern tip of Wall Street called Mannahatta Park, close enough to the water to tempt in the occasional stevedore. More importantly, it boasts two columns of stone benches which, combined with Picnick's 12 gingham-topped picnic tables, should be enough space to host a gathering of all the smokehouse aficionados south of midtown.
We believe it's referred to as a "closing rally."