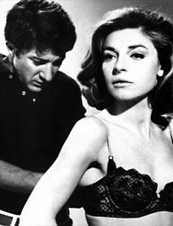 Ordinarily, Palo Alto is the last place you'd find yourself on a Friday night.
But what if we told you that there's going to be a party like no other—involving hundreds of women taking inspiration from the likes of Demi Moore, Mary-Louise Parker and Christie Brinkley—and you're invited…
Behold the inaugural
National Single Cougars Convention
—the world's first party dedicated to cougars from all over the country and the cubs looking to love them—ready to tear it up in the South Bay two Fridays from now.
While your ability to sniff out even the most shy sugar mama in her natural habitat is uncanny, this Silicon Valley bash promises to deliver them right to you, practically on a silver platter (sort of like leading a kitten to a bowl of warm milk).
Without having to cover much ground, you can work the 40-something crowd with just a tumbler of scotch and a wry smile. And don't worry about the keynote from the author of
Cougar-Luscious: Irresistible Dating and Relating for Older Women and Younger Men
stealing your thunder (and cougar)—instead, all the empowering talk about her cougar-lusciousness will make her putty in your hands (or, vice versa, if you're lucky).
Oh, and we forgot to mention that it's also the night of the first Miss Cougar America contest. And you're going to help judge who will be crowned the first Miss Cougar America.
Remember, world peace...