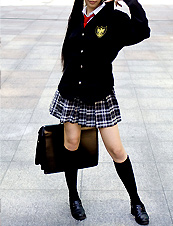 Aside from Sundance and a few prized sushi joints, let's face it: Japantown hasn't really been much of a destination after Japantown Bowl closed.
But something's just come up that's likely to change all of that.
Introducing a curiously intriguing den of Japanese culture,
New People
—a microcosm of Tokyo pop culture wrapped in a modern layered megaplex dedicated to everything Japanese from high-tech gadgets to movies and art—opening Saturday in the three-story glass building across from Benihana (another pure example of Japanese culture…).
Since this hub for all things J-pop is brought to you by Viz Pictures (sort of like Japan's version of Warner Bros.), the underground theater screening Japan-exclusive films will be the main draw. But with boutiques on the second floor, the groups of Harajuku-clad Japanese ladies scouting the latest in Japanese street fashion might catch your eye.
But before you dive into the depths of the underground theater, venture to the top-floor for a look at the latest art from the
Final Fantasy
designer. And don't miss the first-floor store stocked with random gadgets you'd only find on the other side of the Pacific—like quirky Detroit Metal City robots and all kinds of miniature iPod speakers.
As you head into the theater, stop at the rather civilized concession stand and order everything from wasabi-flavored organic popcorn to bento boxes by Delica-rtf, washed down with Blue Bottle's New Orleans Iced Coffee (or tea, to keep things traditional).
New Orleans and Tokyo, together at last.