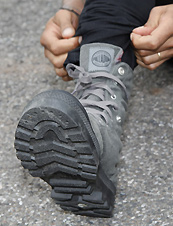 As you traverse the harsh LA wilderness—from the savage agent meetings to the primal Hollywood dance floor—you need suitably sturdy accoutrements.
So when things get really rugged (like, say, slogging through Hollywood Boulevard tourists), you require some legendary footwear once employed by the French Foreign Legion.
Thankfully,
Palladium Boots
have risen again—and you can find them at Conveyor inside Fred Segal.
Founded in 1920 to manufacture European airplane tires, Palladium changed course after WWII—applying its tread science to more important matters, like your feet. (Or your grandfather's, but they were getting there.) So a few decades later you can lace up in style for your next Big Bear excursion or an afternoon climb to the top of Topanga Canyon.
Tucked into a corner of the Fred Segal maze of interconnected shops are several variations of the revamped Pampa boots—high- and low-top, canvas and leather, army green and modern grey—so you can pull them off in terrains both urban and rural. Almost all come in under 100 bucks, and they all have the signature rubber toe-cap.
For LA's wild August monsoons.