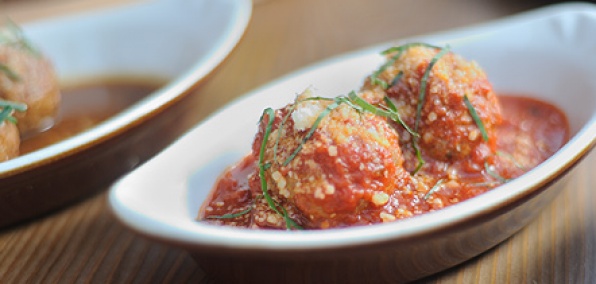 Today we're taking this opportunity to discuss meatballs.

Yes, we know: you might not be feeling like meatballs today. But these are special balls and we think you need to know.

Which brings us to il Casale, where chef Dante de Magistris offers his take on the seemingly simple beef delicacy.

The first thing you need to do, obviously, is hurry in to il Casale. When your waiter approaches, put the menu down, look straight into his eyes and say, "Bring me the sfizi." On the off chance that he doesn't intuitively recognize you as a spherical-meat connoisseur, specify that you would like the Meatball Sfizi. Here's where it gets interesting…

Unlike the typical boulder-sized balls one may find at lesser establishments, these are meant to be smaller so you can sample the trio offered and still have room for gelato afterward, and perhaps even a post-meatball smoke. There are traditional balls in marinara as well as fish-balls from salt cod, but our pick from the lot are the preposterously tasty pork meatballs doused in a gelatinous broth of pig's head.

Yes, you read that previous sentence correctly, and before you close this email, we want you to know this: the end result of these pork balls is something akin to cheesy pork-meatloaf marinated in a sweet sauce the color of dark maple syrup, courtesy of the head of a 60-pound sow.

In other words, these are not your father's meatballs.