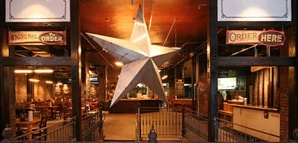 Sometimes you don't need the tablecloths and maitre d's. You just want to dine in a place Swayze could've bounced in Road House.

For those nights, there's the enormous Hill Country, opening Friday.

Billed as New York's first authentic Texas-style barbecue market, Hill Country is the sort of casual meat palace you'll want to bring five of your largest friends to and eat like there's no tomorrow, washing the whole feast down with plenty of whiskey, tequila and Austin-spirited live music (you know you've been dying to hear Heybale in person).

To start, enter the bi-level restaurant and pick up a meal ticket, which works just like the one at Katz's Deli (don't lose that ticket). You'll move from station to station, adding to your tray hand-carved meat that was cooked Central Texas-style: i.e., slow-smoked in rotisserie pits fueled by Texas post oak, and treated with a simple dry rub (there's sauce available, but usage is frowned upon).

While we suggest going straight for the prime rib, you'll want to sample some non-beef as well. Pitmaster Robbie Richter's five-step chicken won a world championship, and there's also a Beer Can Game Hen (the poultry is jammed onto a shot of Lone Star beer, then cooked). So that you don't linger on that thought too long, quickly order a round of Texas Nectars (Maker's, SoCo, almond and orange juice).

And give our best to Swayze.