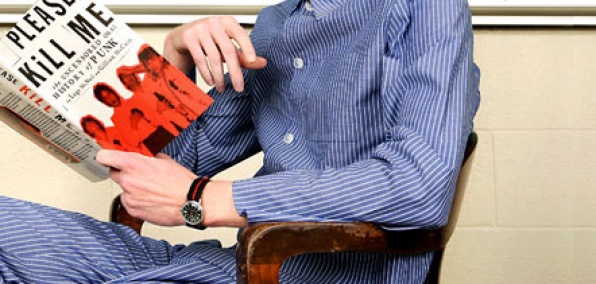 Think of the most comfortable thing you regularly wear in public—your favorite T-shirt, a pair of broken in flip-flops, your aquamarine velvet three-piece tuxedo.

Now get ready to double it.

Introducing American Viceroy, a brand-new line of pajama-esque gear that may just inspire you to live the kind of carefree, troublemaking life that you were meant to live, just arrived at Steven Alan in Tribeca.

So we know what you're thinking—Hugh Hefner. And sure, we admire the Hef (especially the '50s version), but scratch that silky lounge-lizard notion entirely. These bad-boy pj's are more like something John Lennon would be kicking around New York in, if he were still kicking around in New York today.

And if you're having trouble envisioning a place where you would wear khaki pants with an elastic waistband—outside of a massive meat bender at Luger's—or button-down shirts with no cuffs and oversize buttons, well, you're just going to have to get used to the notion that you should be the most comfortable guy in the room, whether you're in a boardroom doing a hostile takeover, stirring a gin martini at three in the morning at the Rose Bar (channel your inner Nicholson), heading into an all-day brunch bender with a posse of champagne-loving foreign diplomats or just lazing about in Central Park watching the clouds roll by.

Just don't wear them to bed.