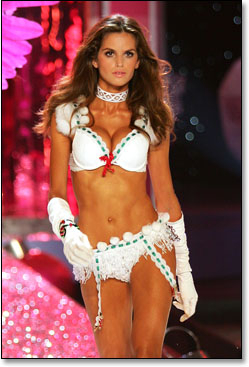 While everyone's out having a pint today in honor of St. Patrick's Day, we at UD thought we'd pay tribute to a more noteworthy but potentially overlooked national event—Women's History Month.
In honor of our love for the ladies, we bring you a UD Profile on one of our favorite women—Izabel Goulart, the newest Victoria's Secret Angel. Quite possibly the perfect girl, the Brazilian stunner is charming, funny, loves sports, and...bowling. Plus she's got a Portuguese accent that could melt the steel off a subway car.
Izabel on New York...

Favorite nightspots?
I don't go out much, maybe it's a change coming from a small city to a big city, gets a little bit intimidated. Sometimes I do, I go a little bit
Bed
, a little bit in
Marquee
,
PM
.
Favorite restaurants?
Now we're talking. I like
Café Habana
, it's right around the corner of my house. I like
Gyu-Kaku
, it's a Japanese BBQ place in Astor Place, it's really really good. Almost every day of the week I am there. I also go to
Nyonya
, Malaysian restaurant.
A taste of Brazil in New York?
I hang out at the Brazilian places, like Plataforma. I think
Porcao
is the best one. Real Brazilians go for the beans, the taste of the beans. Most restaurants don't have the proper sauce, but I went to Porcão, the meats, the beans, the service, it's really good.
Izabel on the Angels...
Is there playing around with the girls backstage?
I love the new Victoria's Secret
swim videos
, because people have a chance to see what happens behind the scenes, you guys get to know us a little bit more.
Who would win a catfight between all the Angels?
Gisele. She is the strongest. She really has a lot of energy. She is amazing, I love her. I would be the second one. Because I would be doing the exact same movements as Gisele. Come on, Gisele! Go right? Okay, right!
Izabel on men...

The game that works best?
Just be kind and honest. I'm not gonna hurt you. Some guys can be very rude. I hate those things, like "hey, beautiful," "hey honey," "oh you smell so good," "your hair is beautiful." Please, you know? Save it. I'd rather have a guy who just tells me, "Listen, I'm very interested in you, would you ever think that you'd like to this and this," and just look me in the eye.
What guys should never wear?
Tight clothes. Tight tank tops, no way. I like guys who are comfortable, you know, jeans, white shirt, just comfortable. I don't like when men care too much about what they wear.
Izabel on the best kept secret of Brazil...
Best unknown place in Brazil?
Fernando de Noronha
. It's a place that's the most beautiful beach I've ever seen in my life, in this private island in Brazil. You can only have like 300 people in the island every week. You can swim with the turtles, with the different fish, the beach is so pure. And the little center in the island, the locals cook for you. There are no hotels, it's pousadas. The best one is
Pousada Maravilha. Pousada Algas Marinhas
is good also, more affordable. The access is very hard to get in. They don't want people to stay there. It's amazing.
Izabel on lingerie...
What's under your clothes?
It depends, when I travel I like the little boy shorts. When I am around the house, I like the soft material, so I am comfortable. When I wear a little dress I like the small ones so it doesn't show marks on my dress. I like the little ones.
Male lingerie?
No. When any woman takes her clothes off, you gotta be dressing nice, nice underwear, super sexy. Woman can play with it, little bra, little panties, little skirt, little shawl, anything. But if a man put something on, you'll be like, "hold on honey, I think I made a mistake, I gotta go."
Boxers or briefs?
Boxers. Those are the shorts, right? Yes, boxers. Not those tight ones.
Speedos?
No, no speedos. Turns me off! It has to be shorts, slippers to walk around if he needs them, nothing else. Just sunblock, that's it. So he doesn't burn, because I like to touch.
Izabel on modelizing...
How best to approach a model?
We live a normal, everyday life. If you are in a bar, you see a model, just be kind and try. Guys, don't be scared to hit on models. We are like everybody else. We pay the bills, we have problems, we have the best days, the bad days, the good news, the bad news.
When to leave models alone?
Sometimes we are in restaurant or hair salon, but we are doing some meetings, or interviews, or promotion. That's the only time not to approach us. If someone came up to her, like "oh, sexy, hot," that's a situation that's not going to be nice. We'd be like, "Please, go away, I'm working. I don't come to your office and bother you."
Izabel on the guys she likes...
Brazilian guys versus American guys?
The men in Brazil are a little warmer, easy-going, smiling. The men in New York City are focused more on the career, job and future—so they are smarter in that way.
The sexiest thing about a man?
I like a man who is very masculine. I like the guy has to be 500% smart. Not 100%, but 500%. I love smart men. I love to learn things from a man. There's nothing more sexy than when a man teaches me something. I love a man who is straight, knows what he wants, is smart.
Izabel on sports...
Sports fan?
I'm very active, that's how I keep my shape. I play tennis, I play basketball. I play tennis on the West Side Highway. I play basketball in the little court on Houston and 6th Avenue. The only thing I don't like is golf. I have too much energy for it. I hit the ball and I have no idea where it goes. I don't care where is the hole, I want to know how far I can get the ball!
Favorite activity?
I like to bowl a lot. I have my own shoes, my own ball—they are both pink. I go to Bowlmor. The highest highest I ever got was 178. But when I don't have a very amazing day in bowling, I go between 145-160.
Did you know about Monday nights, all you can bowl, from 10pm to 3am?
Are you kidding me? Oh, I didn't know! That's so great! So maybe for sure we're gonna see each other there!