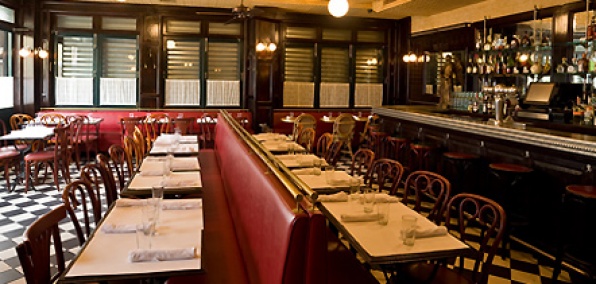 Sanctions are being lifted, Fidel is a shell of his dictatorial self and soon we'll all be sipping mojitos and dancing forbidden dances in the streets of Havana.
But until that day, we'll have to settle for doing our Havana on the LES.
Introducing
Sebastian-LC
, a new Lower East Side Cuban-French mash-up of a restaurant pumping out cheap Cubanos and steak frites to go along with the potential for a healthy dose of a scene.
If Schiller's Liquor Bar had a cousin—and that cousin was Latin, named Juan, decorated his place with cheap Catholic souvenirs and liked to dance the merengue—then Sebastian-LC would be cousin Juan. The packed space is full of rickety old tables, a metal bar that has seen its fair share of martinis, and black-and-white floor tiles faded by the shuffling of past waiters.
We like the place on that basis alone, but then there's more: Sebastian-LC, situated in a former French bistro, is brought to you by some of the tricktsters behind the Ivy parties at neighbor Chloe 81 and
in Montauk
. So you can expect that as the sun crosses over the sky late in the day, the crowd of model/waitresses, art punks and neighborhood cynics will be burning through tropical drinks and high jinks in equal measure.
As for you, you'll want to situate yourself at an outdoor café table or in front of one of the big picture windows looking out on the Broome/Ludlow corner and settle in for the kind of margarita-fueled people-watching that has been known to stretch your happy hours into late-night territory.
Or vice versa…