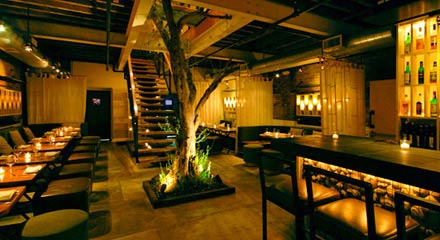 You'd love a vacation to Buenos Aires, Rio or even the Latin section of Queens (OK, scratch that last one), but sometimes your schedule demands you settle for a more accessible option—like dinner at Rayuela, soft-opening Wednesday.

A self-proclaimed "destination restaurant," Rayuela is your trip to South America, sans jet lag, rental cars and a bout of tap water-induced "discomfort." As you step into the bi-level space, the foliage alone will make you feel as if you're in another hemisphere: A massive olive tree grows up through the center of the restaurant, and a flower-strewn pool gives you that good old Peruvian oasis feeling.

You can accelerate the Latin vibe with a Caipirinha from the downstairs bar or, in the upstairs ceviche-only bar—that's right, a bar dedicated solely to citrus-marinated seafood—tasty Barnacles shipped from Chile. Once you finish experimenting, order an Estilo Libre Latino ("Freestyle Latin") dish like Langosta Revolucion ("Lobster Revolution"—because it's not a vacation without lobster, and it's not a South American vacation without a little rebellion).

But the candle-lit bathroom area, complete with a chaise lounge and grand communal sink, is the real hotspot. The room is designed as a meeting place for you and other eye-catching guests. And if it's meant to be, Rayuela can even host the wedding (they've booked a couple already).

There's something to be said for the next best thing.