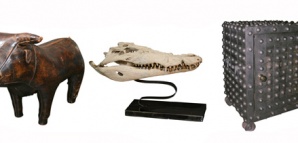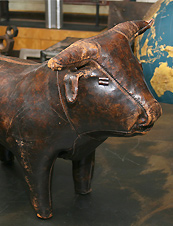 A good apartment's all right, but good furniture can save lives.
Whether it's the feather-soft couch that gently cradles reclining lady-guests or a tastefully lit velvet Elvis, the right item can change your homestead from a pre-party stopover to a fully stocked destination for inquiring minds.
Having one more place to stash a vodka bottle is just icing on the cake.
Welcome to
Mantiques Modern
, a small shop in Chelsea with some of the weirdest chairs, cases and blacksmithing equipment the past century has to offer, open now.
Like the man-purse and the mancation, this shop takes on a less-than-manly endeavor—in this case, interior design—and renders it safe for unmanicured hands. That means you won't have to worry about tripping over any 17th century chaise lounges on your way to the retro liquor cabinets in aisle three, and you won't have to worry about what "verdigris" means.
What you will find is a whole store full of useful and handsome objects meant to give your apartment that Keith-Richards-on-a-retail-bender vibe you've always wanted—gear like a Jazz Age-era Louis Vuitton trunk (they're suggesting you put it under glass and use it as a coffee table), an end table made from a rehabbed dental cabinet and a pigskin wall clock lifted from a Gucci shop circa 1964.
If you'e feeling particularly adventurous, you can stroll into the "genuinely weird" aisle, where you'll find a polished steel dodecahedron statue alongside a 150-pound blacksmith's hammering block.
Which should make for the manliest night table on earth.