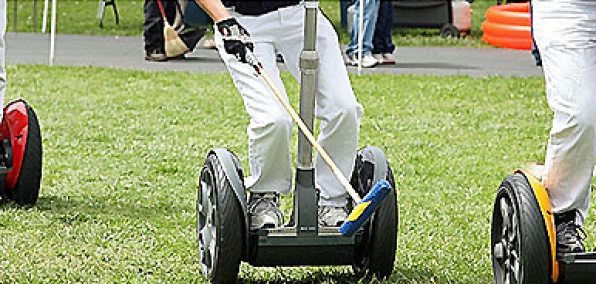 As anyone living around the waterfront area of Charlestown can tell you, strange things have been afoot the past three weeks.
Fans of an age-old game have tested wit and worth in order to qualify for a gladiatorial throwdown the likes of which this city has never seen.
We're talking, of course, about the first-ever
Segway Polo Classic of Boston
, a version of the sport more Marty McFly than Ralph Lauren.
This particular brand of the Sport of Kings requires no birthright of nobility (nor horse), and considering Boston's history decrying monarchist elitism, it seems like a perfect fit. Two teams of five roll onto the field tomorrow comprised of the last men standing after three weeks of Segway tryouts (and we're guessing any number of hilarious falls) to zip their way to glory. And as per
International Segway Polo Association
rules, all the "chuckers" will be in full Segway polo regalia (basically, jeans and a collared shirt).
We're not promising a Yankees/Red Sox epic battle here, but given the fact it's practically impossible to look cool on a Segway, it should be interesting to watch. Winners will have bragging rights as inaugural Segway Polo Classic champions, securing their place in the annals of Boston sports folklore for decades to come.
They'll also burn like a hundred calories.