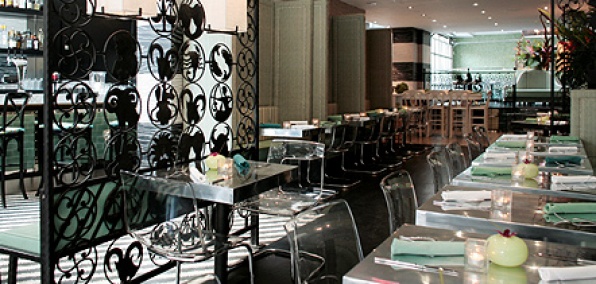 It's hot. Mojito hot.

And, sure, it'd be nice to jet off to Havana for a vintage cocktail and some moonlit, sea-kissed carousing, but we may have just found an alternative that won't require a passport.

(Unless you consider Hell's Kitchen uncharted, international waters...)

Hidden on a stretch of 9th Ave usually reserved for beer-swilling taverns is the surprising and sexy majesty of Agua Dulce, a sleek new tribute to vintage beach-club dining, serving up pan-Latin cuisine and tropical drinks till the wee hours, soft-open now in Hell's Kitchen and accepting reservations for next week.

Agua Dulce is the kind of shiny turquoise-and-white palace—think a 1950's Búzios beach club mixed with a patio bar at the Delano—where you'll want to bring a date that's not afraid to show a little suntanned skin.

There are six rooms to do your bidding—but you should start in the three-story-high skylighted bar area, grab a Habanero Mango Margarita and survey the scene in front of you—a sea of aquamarine tiles, tropical flowers and yellow flames from the open grill—before decamping on the outdoor cabana patio for some ceviche and Arroz con Pollo.

Or drop by late night (the kitchen's open till 4am) after an evening of dancing on tables, wind your way downstairs, past the open kitchen, through the copper dining room and into the hidden wine cellar. There you'll snack on Pork Belly Benedict With a Fried Quail Egg, finish the night off with a little champagne and head back out into the real world.

At least for a few hours until brunch starts up again.