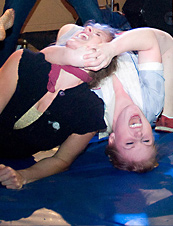 Summer.
It calls to mind serene afternoons of lazily reading a paper, sitting by the Charles staring up at the clouds, or doing nothing and being totally content. That is, if you're completely and utterly lame. For the other sect, this is for you.
This Sunday in Allston, at the fine beer-slinging establishment known as Great Scott, you are invited to come out and see with your own eyes the first time the perfect storm of Rock Band 2, barbecue, live music and costumed, theatrical women mangling each other all night come together. Just for you.
That's right, prepare to grab a small, sullied piece of history when the
Boston League of Women Wrestlers
—or, BLOWW—cheerfully and voluntarily try to destroy one another while the smells of delicious BBQ waft through the air, fighting their own fight for dominance over the whiffs of sour mash, whiskey and lager normally saturating the nostrils at Great Scott.
There will also be music: Cambridge-based Harmonix juggernaut Rock Band 2 will be playable all day, and for the throwbacks: actual, three-dimensional bands will be manufacturing rock music with real instruments hooked up to amps and stuff.
Part BBQ, part Rock Band bash, part live concert, part local women in costumes (everything from cheerleaders to goth chicks to book nerds) pile-driving each other and snarling at the audience, it'll be a nice little Sunday. We see this as the antidote to Home Depot runs and sixers of soda pop the "normals" are used to. 
Besides, that's for next weekend.