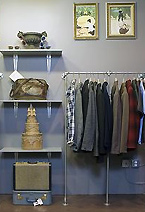 It's the most basic truth: when something is good, you want more.
Which is why you should know that your best source for vintage and indie designer threads just got a whole lot bigger. Welcome to the new
Shotwell
, tripled in size and ready to rock in the former home of Don Sherwood Golf & Tennis World (hopefully they left some golf pants behind).
Shotwell (named after the street where husband-and-wife shop owners, Holly and Michael, got their sartorial start) will continue to be your go-to for high-end designers, indie up-and-comers and well-curated selection of quality vintage looks (kind of like a downtown American Rag). Since they've got so much extra space to fill, you'll see that they've gone deeper into their existing collections and branched out with some new collections (like footwear from Opening Ceremony).
But you'll probably find yourself gravitating to the upstairs, fully stocked with clothes by up-and-coming indie designers from SF, LA and New York that you'll be hard-pressed to find anywhere else. Not to mention new favorites like YMC, Shades of Greige and Penfield, as well as sharp button-downs and ties from SF-based Gytha Mander that'll be equally comfortable at the office as at happy hour.
Which you know a little something about.