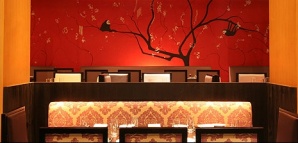 You already know Midtown can be a zoo.

But you may not be aware that there's a new monkey in town. The transformed Monkey Bar, that is, which officially opens Monday.

Opened inside the Hotel Elysee in 1936 (and a favorite of Hollywood luminaries like Ava Gardner), the legendary spot shut down in March for an overhaul that would make it sleeker, hipper, less steak-y and more Asian (call it Project Sex)—while still maintaining some golden-era glamour. So now when you enter off 54th Street, you'll find the bar area's trademark yellow wallpaper (full of playful monkeys, elephants and tuxedoed gents) and low-riding leather armchairs intact. (For a cozy spot, ask for Table No. 1 by the window, and settle in with a round of Blueberry Joes: tequila, coffee and muddled blueberry.)

Inside the dining room, you'll now discover a new Chinese-style courtyard with wraparound veranda, red wallpaper with art deco monkeys and a lengthy scrim (theatrical curtain) depicting a 10th century emperor's palace (complete with mistresses and pimp), which give each table its own private alcove (perfect for that meeting with your own mistress/pimp). Cuisine-wise, chef Patricia Yeo (Sapa) has removed all the steaks (between you and us, they'll grill you a New York strip if you ask) and added intriguing dishes like Tater Tots with Cheese Fondue and Snails and Tails: roasted garlic ravioli, escargot and oxtail ragout.

Welcome back to the jungle.