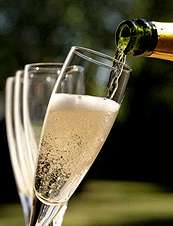 We're hard-pressed to think of an occasion that doesn't call for popping open the bubbly…and then popping some more.
Especially when it's your own label.
Which is why you'll want to get in on
Crushpad's Sparkling Wine Barrel Adoption
—the custom winery's first vintage of sparkling wine with about ten barrels available now for adoption by the quarter, half and full barrel.
Think of it as reaping all the benefits of winemaking without the headache. You simply have to decide how much you want—anything from six cases to 24—design your label, and let the experts take care of the rest.
Of course, if you want to get involved, the people at Crushpad have festivities planned around virtually every step in the process. Say you want to help with harvest; they'll set up Crush Camps when you can head to Split Rock Vineyard to pick and sort grapes. You'll also get to tour the Sonoma facilities where the bubbly's being made and learn what goes into making sparkling wines (hint: it involves bubbles).
And since they're focusing on two styles of blanc de blanc—one fermented in stainless steel, another with a slight oak fermentation—you'll be able to sample and select the style you prefer at the blending sessions.
Finally, expect a bash when the bottles are released in early 2011.
Just don't drink it all in one place.