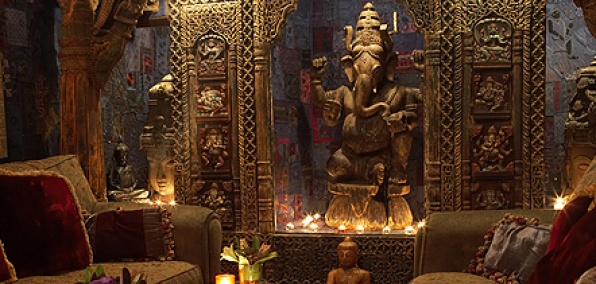 It's no secret that the best parties tend to happen behind closed doors. The trick is being around when they open.

Welcome to the Foundation Room, an exclusive party on the top floor of the Mandalay Bay, open to the public as of this week.

You may have already heard about this members-only shindig—in fact, at different times you may have already sneaked in disguised as Kanye's official champagne pourer—but as of Wednesday you won't need any subterfuge to get past the door. Just make your way to the 43rd floor of Mandalay Bay, past the glowing Buddha statue, and into one of the city's hottest formerly private scenes.

From the moment you step inside, you'll be soaking in the kind of vintage glamour you usually only find in old-money mansions…but with a much better sound system. That means a maze of exotic, semiprivate rooms to explore in the back, a dance floor covered in Persian rugs, and a Strip-side balcony with just enough room for amorous advances with this month's lucky lady.

You can filter in with the dinner crowd before seven if you need a little tapas-flavored fuel, but we recommend making your way to an elevator around eleven, when the doors reopen and the scene comes into its own. Just find your way to a VIP couch where you can watch the action unfold.

Sort of like on other VIP couches in Vegas...