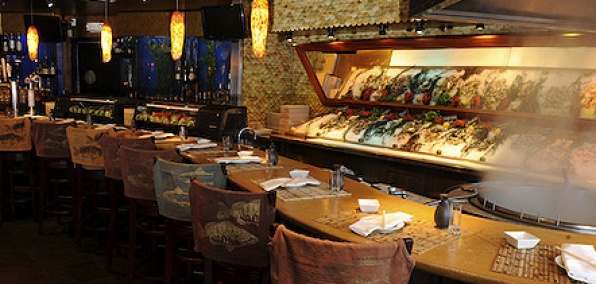 Late-night cravings.

For some it's just a plate of leftover fried chicken. Others, a slice of pie with a sidecar of milk. You…sushi.

And until now there's been nary a solid place in town to hit when the Hour of the Wolf nears and you've got a hankering for some fresh yellowtail sashimi and a chilled glass of sake to ease you into a better goodnight. Thankfully, Todd English has got your back.

So we're pleased to reveal his new SUSHI at Kingfish Hall, opening tomorrow. Think of it as your new late-night dining option, and reason to hang out in Faneuil Hall once the tourists return to their hotel rooms.

West Coast Japanese-style masters have been enlisted for this, but wasting their skills on California rolls would be a crime. Instead, test their talents with the off-the-menu Screaming Tuna Roll—it's tuna, sriracha, cucumbers, scallions and tempura flakes in a wasabi soy wrapper with a side of citron ponzu sauce.

If you're too hungry for sushi, get the Steakhouse Zushi Sandwich: triangle-formed bites with seaweed and sticky rice, filled with thin-sliced NY strip steak sautéed with peppers and onions.

And just for you, there's a little welcoming party tomorrow to celebrate the new setup. Get there from 5pm to 6:30pm for gratis cocktails and a sampling from their signature menu.

Feel free to stay late.