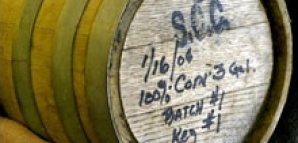 Here's what you bring to the party: energy, charisma, charm,
joie de vivre
, etc.
But we're concerned that may not jive with what you
physically
bring to the party. Instead of a last-minute shiraz, may we recommend something vastly more original—and woodsier: a barrel of bourbon from
Tuthilltown Spirits
.
New York's only grain distillery, Tuthilltown allows you to order casks of whiskey customized and labeled to your exact specifications. Stop by one of Tuthilltown's
local retailers
, and you can select the size of your batch (starting with a two gallon barrel, which yields about 20 bottles), the type of whiskey, the grain components and the name (e.g., Kevinfiddich Black Label).
Or, if you're not big on personalization but still want to take your booze beyond Johnny Walker Blue, you can choose from one of Tuthilltown's four signature whiskeys, which include:
Hudson Baby Bourbon
(aged briefly and distilled from corn alone),
Four-Grain Bourbon
(the next reserve drops in late June),
Manhattan Rye
(produced with the vermouth-stirred Manhattan cocktail in mind) and the minimalist
Government Warning Rye
(its label includes only what federal law requires).
And no matter which type of hooch you select, the charred and whiskey-tinged American Oak cask where it spent months aging is yours to keep. Which, now that we think about it, might be the ultimate party offering.
Or just the perfect addition to your breakfast nook.