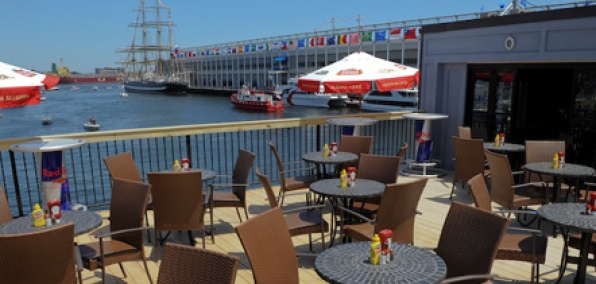 It's been a long week. Actually, it's been a long month.

But now that the clouds have started to part, it's time to step blinkingly into the light and remember what's so special about summer in our fair city.

Namely, drinking on somebody's roof.

Introducing the Rooftop Bar at the Atlantic Beer Garden, your newest reason to party after work down by the seaport, opening today.

Since the ABG opened in 2008, it's been the go-to when lines at the Shepard Fairey ICA exhibit were too long, or you didn't feel like crossing the bridge to the South End for a night. You've been so good to them, they decided to build you a killer view of downtown from their roof, complete with a full-service bar and expansive deck, which they just completed. (You might even smell the sawdust while imbibing tonight.)

The deck and bar lets you and 119 of your friends kick back while taking in the Financial District lit up at night along the ocean. Although you'll want to pull your eyes away for at least a moment while you devour some deliciousness off their new grilled panini menu, which is only available on the deck.

Everyone loves an exclusive panini.