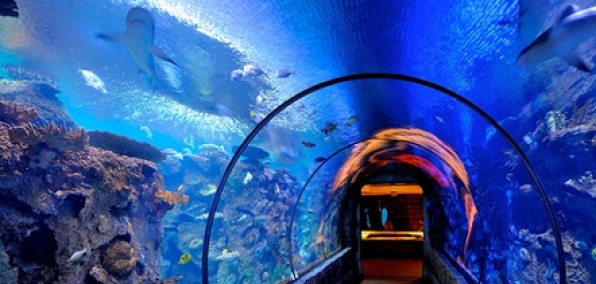 There are a lot of dangerous ways to amuse yourself in this town, from hitting North Vegas' finest taco shops to debating the merits of Steve Perry's solo work with cage fighters.

But if you want to test your mettle against a bona fide maiming machine—and why else would you be here?—you should direct your attention towards something a little more aquatic.

Introducing Dives at the Shark Reef, a guided tour of the Mandalay Bay shark tank, now offering face time with sharks, sawfish and all manner of enthusiastically carnivorous marine life.

In other words, it's the National Geographic version of tomorrow night's UFC bash. A hotel key and diving certification are all that stand between you and forty-five minutes in the tank with some of the sharpest-toothed creatures the ocean has to offer, including nine-foot sandtiger and sandbar sharks, assisted by a frighteningly thorough assortment of rays. All told, there are more than 30 Jaws washouts in there—with 1.3 million gallons of room—and while you'll have a tour guide and a chainmail suit to protect you, you'll still be seriously outnumbered.

Also, a glass tunnel runs through the whole tank, so you can invite a few spectators if you're so inclined. And as an added bonus, there'll be a two-camera video crew documenting your every move for posterity.

Hey, it wouldn't be Vegas without a little exhibitionism.
Note:
Tours begin at 3pm on Tuesdays, Thursdays, Saturdays and Sundays