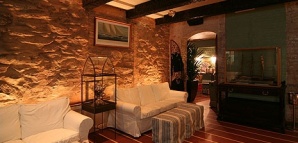 You could go to the beach this holiday weekend, sure.
Better yet, you could have it come to you at the
East Village Yacht Club
, opening tomorrow.
The East Village Yacht Club is the spot where you spent summers with Pop—sans the stuffiness...and the ocean. (Though after a couple of glasses of Veuve, you might not notice the lack of water.) While the two-story space boasts a second-floor Champagne Raw Bar, complete with eight types of bubbly and oysters, Maine lobsters and caviar delivered daily, the real party starts below deck.
Venture down the staircase lined with burgees (that's boat flags to you and us), and you'll find three
nautically themed
spaces. In the Living Room, you'll watch the sun dip below the Cape Cod Bay on a projection screen. In the old-style Dining Room, you'll choose from coastline favorites like pigs in a blanket, grilled three cheese on sourdough, miniature lobster rolls and—the must have—
Caviar Pie
. Finally, hit up the Grille (don't let the name fool you, it's a bar), where you can order a
Lower East Southside
(mint, lime, Mount Gay rum, simple syrup and club soda) and laugh about all the traffic you're avoiding.
And while you're there, inquire about the upcoming membership program, an exclusive club within a club that will offer perks like private parties, dinner reservation preference and weekend outings on a 40-foot yawl.
Then, probably best to get out while you've still got your sea legs.