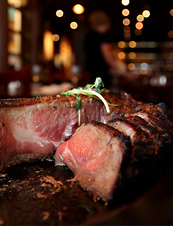 When we started to think about the Fourth of July a few weeks back, our thoughts turned to the glory of our nation, the courage of our founding fathers and, naturally,
the majesty of beef.

And then a question occurred to us: who serves the largest, most preposterous, most gloriously offensive single cut of steak in this great meat metropolis of ours?

So we scoured the five boroughs and ultimately cut into what is by all accounts the largest steak being served in town.

Loosen your belt for Quality Meats'
Double Rib Steak
, available now if you're game.
Tipping the scales at a mind-boggling 64 ounces (shaming Prime Meats' 54-ouncer and Peter Luger's paltry 38 oz. weakling), the Double Rib is the kind of beef bomb you'll want to tackle solo if you're waking up from a 200-year slumber, enjoying your first meal after being rescued from a deserted island or headed for the chair.  
Otherwise, bring a friend or three and prepare to dig into a wet-aged, five-inch thick, ridiculously marbled monster that's been cooked to order in a 700-degree double broiler. Carved tableside, you'll be dealt some ten slices—each larger than a pack of playing cards—of well-seasoned, flavorful, pink perfection flanked by two enormous bones.
Which can conveniently double as weapons if a meat-hating Communist approaches.