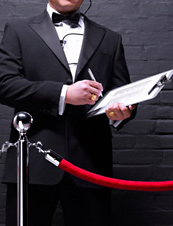 Nightclubs may come and go, but fame lasts forever. Or at least for 15 minutes.
And on a day like today, when we are reminded that life is fleeting but music videos last for eternity, it seems right to share the news of a new venue in town destined to provide you with a moment to shine.
Introducing
Fame
, the city's newest
shamelessly interactive nightclub experience
, now taking reservations for a sneak-preview party next weekend.
Taking over the old Parkwest spot, complete with a mind-blowing Dynacord Cobra sound system and a massive wall of LED lights, Fame is like
America's Got Talent
on steroids, a five-bar audiovisual extravaganza that's ripe for a crazy performance or two.
At first, your night starts harmlessly enough, with the club staff providing the merriment through acrobatic dance performances, soulful vocalizing, a few contortions, magic tricks and an Elvis impersonator or three (yes, all of this…and more). But then things get a bit more reciprocal, with clubgoers encouraged to step up onstage, grab the mic and scratch that itch for the spotlight with a song, a dance or a little poetry slamming.
Yes, they serve cocktails.