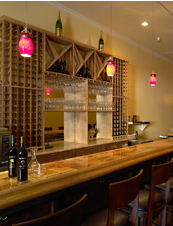 It's good to keep it in the family.
So when the nephew of the Crotti clan (of Tommaso's, which has served the likes of Francis Ford Coppola and George Lucas) decides to open his own wine bar a few storefronts away—and, most important, encourages you to bring your own Tommaso's pizza to eat at said bar, we knew it'd be worth a look.
Introducing
Vin Club
, a new Italian and California-focused wine bar and tasting room brought to you by owner and winemaker Dario Zucconi, the pedigreed son of a long line of Italian restaurateurs, opening across from Enrico's on Broadway.
You'll be hard-pressed to think of one single wine bar on this stretch of Broadway, which is why Vin—taking over what was formerly Broadway Joe's and a historic speakeasy way before that—is something you'll want to keep on your pinot-calibrated radar. It'll make for a great postwork pinot,
pre–15 Romolo layover
and the ideal pit stop you've been waiting for to eat your Tommaso's pie with a glass of Primitivo (or something from the growing list of as many as 40 wines by the glass).
If you're serious about running through the tasting list, the custom bar built using reclaimed wooden wine box tops is your spot, but if you're here to relax with the guys over a few Chimays, head back to the leather couches by the flat-screen.
After all, you're family.